The Tools You Need for Your Remote Business
Remote work has now become the day-to-day reality for many workers around the globe. However, you can make the best of this new normal by having the right knowledge and tools for your employees and your business during this unprecedented time. 
Remote work can lead to 23% more productivity and 100% more satisfied employees.¹
Make working remotely work for your business.
While working remotely may be new or unfamiliar to your team, it can actually make for good team building and better business. In fact, it's been shown to improve engagement and establish a more tightly connected work community.² For a business owner like you, that's great news because employees who are more satisfied clearly drive better financial performance for companies.³ To ensure that employee satisfaction and meaningful collaboration can happen even when your employees are apart, you'll need the right tools to bring them together online.
Use Cloud collaboration to improve connectivity.
With convenient mobile devices and cloud-based platforms, collaboration and innovation can take place anywhere, anytime. Seamless cloud access begins with Wi-Fi that's reliable and secure. Although your remote employees will likely be using their home Wi-Fi for work, offering to pay for their Internet if they upgrade to the best Internet plans is a small price to pay for better collaboration. With the latest and greatest home network and Wi-Fi equipment available, your team can improve their connectivity and productivity wherever they are.
Mobile devices will always come in handy.
Obviously, your remote workers will need a mobile device. But before you shop around for smartphones, consider that many employees prefer to use their own device since they're more familiar with it. In fact, 49% say that using their own device makes them more productive.5 Letting your employees use their own smartphones cuts down on costs, and keeps your workers happy.
However, some tasks are a bit more complex and are better done on a larger screen. If you haven't done so already, a company-issued laptop is another productivity tool you should invest in. 
Keeping your business safe.
Once your workers have the devices that they need to be productive, ensuring that your business is protected from potential cyber dangers should be your next priority. It is critical for cloud collaboration to be safe from cyber threats. While letting your employees use their own devices for work may be what they are most comfortable with, it also comes with its own set of security challenges. Here's how to keep your business safe.
When your devices have been secured, you'll be all set for your business to thrive remotely.
Another tool to consider for your mobile toolbox to make remote work more flexible and more connected is Hosted PBX. Visit cogeco.ca/business for more information.
The bottom line: Remote work can bring you better business if you have the right devices and services available. You'll need a reliable and secure Wi-Fi connection for cloud collaboration, portable devices that allow your team to work from anywhere and a robust cybersecurity service to keep your business safe. Once you have those basics, then your remote business is ready for success.
Going remote can be easy. Here are 5 tips to make your remote workforce a success.6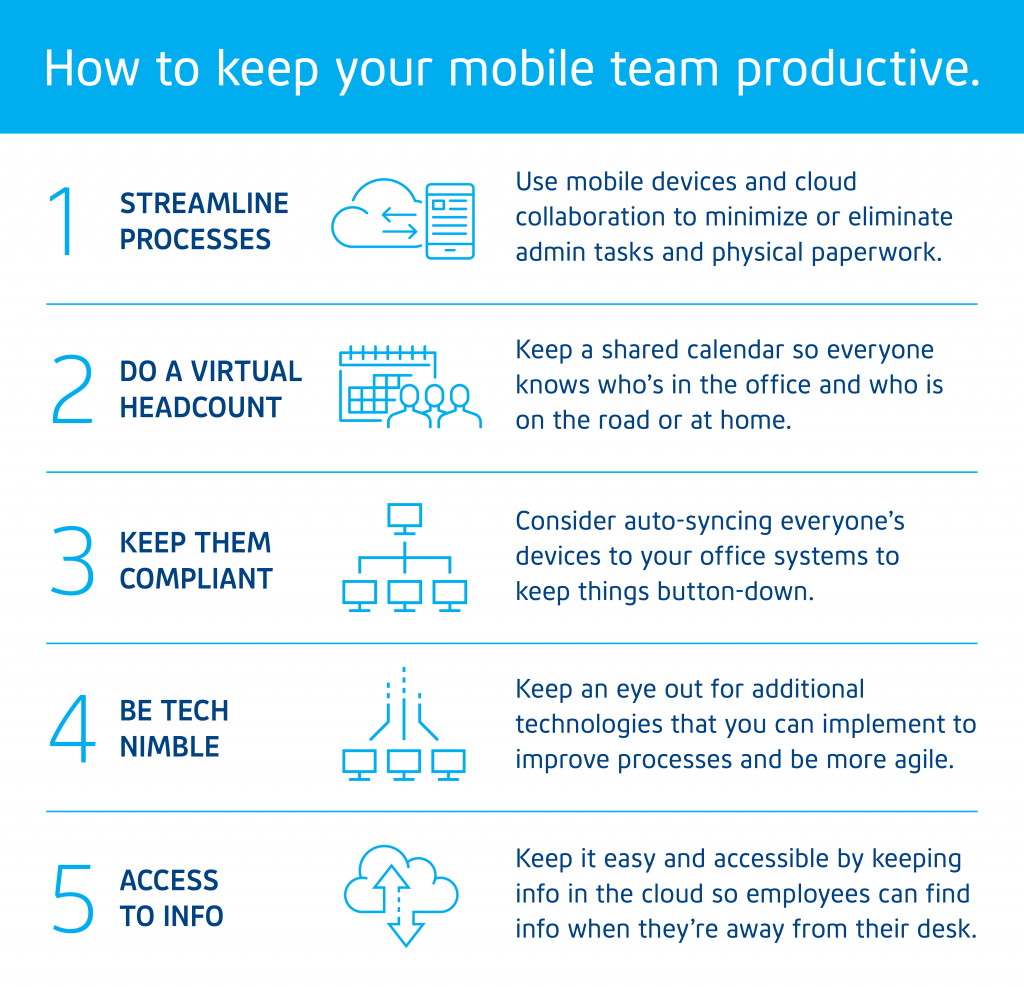 ---
Sources:
1,2, 4 Newman, D. (2016, Mar 29). Is Mobility The Answer To Better Employee Productivity? [Online Article] Retrieved from
https://www.forbes.com/sites/danielnewman/2016/03/29/is-mobility-the-answer-to-better-employee-productivity/#3b7402cd131c
3 Chamberlain, A. (2017, Dec 5). 6 Studies Showing Satisfied Employees Drive Business Results [Online article] Retrieved from https://www.glassdoor.com/research/satisfied-employees-drive-business-results/5 Lockley, S. (Date unknown). 6 Advantages of BYOD (Bring your own device) [Blog]
Retrieved from https://insights.staffbase.com/blog/six-advantages-byod-bring-your-own-device6 (Author Unknown) (2018, Dec 5). 5 Top Tips to Help Manage a Mobile Workforce [Online article] Retrieved from https://www.totalmobile.co.uk/blog/5-top-tips-to-help-manage-a-mobile-workforce/
7 Faulkner, C. (2017, May 9). What is NFC? Everything you need to know [Online article] Retrieved from https://www.techradar.com/news/what-is-nfc
Keep your business connected
Unified Communications