1-2-4-5-7-12  Canadians Internet, 2022.
3  Buffer, 2022.
6  Twirp, 2022.
8-11-17 Techwyse, 2022.
9 YouTube, 2021.
10 Socially Buzz, 2022.
13-15 Statista, 2022.
14 Twitter, 2020.
16 Pinterest, 2021.
Establishing your SMB's online presence
We're willing to bet that you know the importance of having a solid social media strategy for your small business. We also understand that it's hard to know exactly where to start and which platforms will be the most effective. That's why we're sharing tips on using your limited resources across the right social media platforms to better establish your online presence.
Know where to focus
No 2 companies, no matter how big or small, can afford the same marketing budget or resources. The reality of any business is that it needs to adjust to its market. Still, as a business owner, it is important to make sure that your social media marketing budget is well invested. You want to maximize your reach without putting in more time or budget as is feasible. Defining a consistent and repeatable social content strategy is the key, as is distributing that content on the best networks for your business.

Keep in mind that you don't have to be present on every social platform. It's best to focus on the platforms that can help your business grow and achieve its goals. Here are some tips to help you target the right platforms:
Who is your target customer? Are you targeting businesses (B2B) or consumers (B2C)? Or a mix of both?

What's the demographic you're targeting? Is your customer base younger or older? What is their income range? Are they mostly men or women? Where do they live? These kinds of questions can help you narrow down which platforms they're more likely to frequent.

Which social networks do your current and

prospective

customers use?

What kinds

of content do they enjoy and interact with the most?

For example, do they like reading in-depth articles, scrolling through reels or watching tutorials online?

What social networks do your competitors use? What types of content do they post, and with which frequency?

Does your business have a physical storefront?

If so, there are some platforms you'll want to be on to share your location, hours, etc.

Does your company do online business?

If so, there are some platforms that allow you to sell your products without the customer ever leaving the social app.

What types of content do you want to publish?

What are you most likely to enjoy posting regularly?

What are your objectives?

You might be looking for more page views, sales, likes and comments, in-person visits or something else.
Digging into these questions will help you narrow down the best platforms for your business.

3 factors to consider when making your choice
Not every social network is suitable for every business. Define your targeted and prospective clientele, your objectives and the types of content you want to share. This will help you refine your selection and choose the most profitable social networks.

1. Know your targeted consumers
Bring to mind your current and ideal customers. Think about their demographics, geography, habits, etc. and choose the platforms where they are likely to engage the most.

2. Define your goals
Choosing which social media channels to focus on depends on your goals. For example, Twitter can be useful for improving customer service because of the platform's strength in delivering customer feedback. A tourism or hospitality business might focus on Instagram, Google Maps or Pinterest to showcase their offerings through visuals and booking information. Aligning the benefits of a platform with your company's goals is key.

3. Determine what you want to publish
Think about the types of content you plan to publish, or invest time and money in, whether that be photos, videos, infographics, news, e-books, promotions, blog posts, job offers or even industry trends. And no matter what you choose to publish, keep in mind that your website is the pillar of your digital presence. Add relevant and useful content to it and make it user friendly and aesthetically pleasing. You can then use your social media channels as a springboard to direct customers to your site.
Most popular social networks for SMBs
Each social media platform has its own particular interface, user base and set of functionalities, and the same user will interact with different platforms in different ways. Here, we break down the nuances of each platform to help you better determine where to invest your efforts and show you which are the most popular channels among SMBs:

Facebook
If you want to reach adults, consider Facebook. Around 80% of Canadian adults have an account on this social media platform, making it one of the most popular in the country.1 Another stat to consider is that 86% of Canadian women use Facebook, compared to 75% of Canadian men,2 so it's a valuable network if you're looking to target a female audience.
Facebook is a great way for businesses to gain visibility and interact with customers. It's also easy to cross-post from Facebook to Instagram, making it easy to post to 2 platforms at once. And with over 2 billion unique monthly users, Facebook is the largest social network in the world,3 so it's a great way to promote your online business to a wider audience. 
If you enjoy posting photos and interacting with your customers, consider using this as one of your primary social media platforms. It's a great platform to communicate up-to- date information about your business, share useful content and engage an adult demographic.

Online chat and messaging applications
Some 65% of adults in Canada use online messaging applications.4 With apps like Messenger or WhatsApp, SMBs can advertise, create chatbots, send newsletters, share promotions, give real-time updates and more. These features give you a number of ways to communicate with your customers.

Instagram
Research shows that 40% of Canadians use Instagram regularly and 58.2% of online Canadians visit the platform at least once per month.5 
The platform is popular for Canadians from ages 18-44, with the largest group in the 24-35-year-old category.6 And it's worth noting that Instagram's popularity is consistent across all income brackets in Canada.7
Because Instagram is such a visual platform, it's a great place to show off your products, but you can also post text-based information, host live Q&A sessions, share behind-the- scenes stories and more. The platform has a number of features you can take advantage of.

YouTube
For any size business, YouTube is a fantastic platform to share valuable information and gain user trust. According to Techwyse, it is the second-most popular network among Canadians, with 72% of the population using it.8 YouTube is a massive space for information and entertainment, but did you know it's also one of the most popular search engines online? This means that you can attract new customers by answering popular queries related to your business.
Consider using YouTube if yours is a service-based business. Sharing information and then directing viewers to your website is an excellent way to increase your customer base and online visibility. According to YouTube, 80% of small businesses with a YouTube channel acknowledge that the platform has played a role in expanding their customer base by reaching new audiences.9
LinkedIn
LinkedIn is the preferred social media outlet for B2B with 97% of B2B businesses using it in their marketing strategy.10 It's an excellent platform for building and maintaining professional relationships, generating lists of potential clients and recruiting candidates.

If yours is a B2B business and you enjoy interacting with other professionals, consider using LinkedIn as the primary focus of your social media strategy. Engage in group discussions, maintain regular contact with other professionals and share valuable information by posting regularly to your network.

TikTok
TikTok is a short video sharing app. Canadian users spend the most time on this social network, with an average of 45 minutes a day.11 If you're looking to reach a younger audience, this is a great platform to be on. 76% of Canadians from ages 18-24 have a TikTok account. Moreover, TikTok's fastest- growing segment is the 25-34-year-old demographic.12
If you're looking to post engaging, informative or entertaining content regularly, TikTok is an ideal place for you to focus your social media marketing, as you can reach a wide audience even when you're getting started. Use TikTok for Business to learn about best practices and getting started.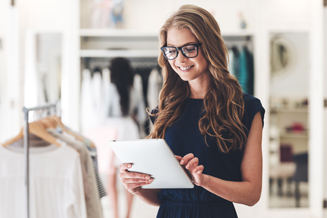 Twitter
Twitter is a social network that lets users post short messages called tweets. People use Twitter to share interesting, relevant and entertaining posts and to stay informed about up-to-the-minute news.
In 2021, the number of active Canadians using Twitter reached 7.6 million.13
If you're looking to position yourself as an expert in your industry, engage with your customers by sharing new and relevant information and engage with other industry leaders, then Twitter is probably for you. With a focus on timely information and social networking, it also allows you to post photos and videos that support your opinions.
You can also use Twitter as a social media platform to interact with your customers and other businesses. In fact, 64% of customers prefer to use Twitter for customer support as opposed to phoning the business.14
Snapchat
Snapchat is popular amongst young adults and teenagers. Through the app, users can send disappearing photos, videos or text to their contacts. Snapchat allows businesses to broadcast short, live content to engage their audience. If you want to share exclusive content with a core audience, Snapchat is the place to do it, since all content disappears once it's been seen. This is a great way to engage your audience with discount codes, exclusive offers and other timely information. Businesses may also use Snapchat's native ad platform to reach an even wider audience.
Pinterest
Pinterest is another popular social media platform, especially amongst Canadians.15 Pinterest is a great place for users to look for new ideas, make wish lists, shop and find inspiration. If you love creating visual storyboards, Pinterest offers small businesses a platform to bring the look and feel of their brand to life. In addition to pinning great visuals, you can also post how-tos, infographics and other relevant information for your audience to drive traffic back to your site.
And the great news for online retailers is that Pinterest users are 7 times more likely to purchase products they've pinned, so make sure your content is up to date and aesthetically appealing.16
Connect with your customers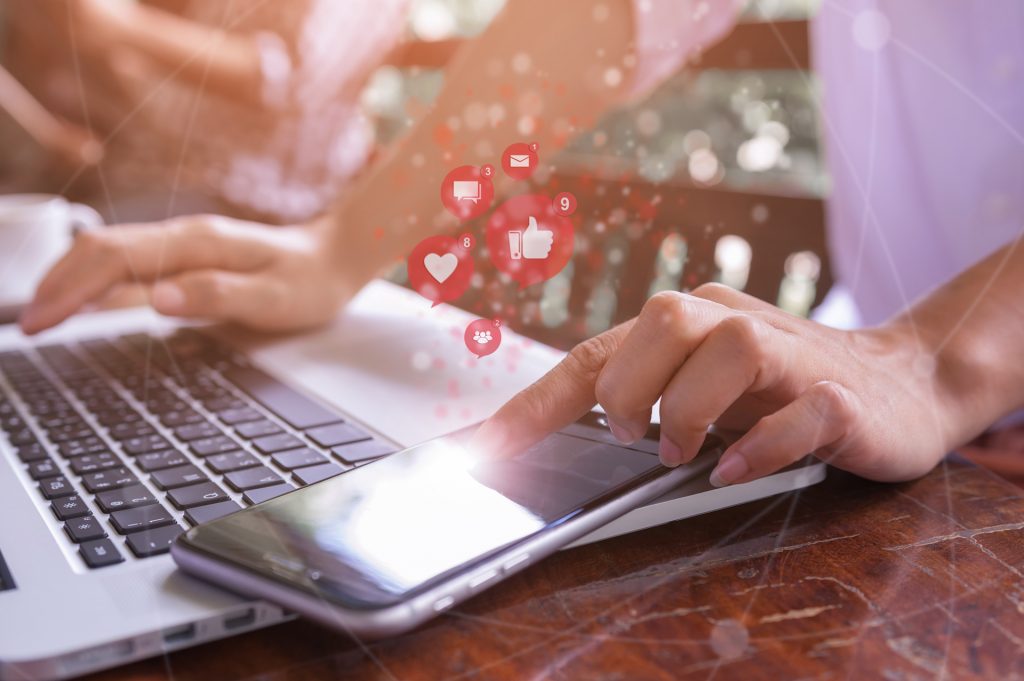 Whether you have a storefront, an online shop or a service-based business, you can tailor your social media efforts in a way that drives engagement and sales. Find the places your customers and prospects are most likely to spend their time, and create engaging content that speaks to their needs.
Lastly, make sure your content is optimized for mobile devices. Over 90% of Canadian social media users use phone apps to access their social channels,17 which means any traffic you're driving to your site from social media is most likely viewed on the phone.
There you have it—an overview of the best social platforms for your small business. Start by posting content you're passionate about on platforms your potential customers use and you'll be sure to make an impression.
1-2-4-5-7-12  Canadians Internet, 2022.
3  Buffer, 2022.
6  Twirp, 2022.
8-11-17 Techwyse, 2022.
9 YouTube, 2021.
10 Socially Buzz, 2022.
13-15 Statista, 2022.
14 Twitter, 2020.
16 Pinterest, 2021.