Don't think that artificial intelligence (AI) impacts your business? Think again.
33% of consumers think they use an AI-enabled device or service. It's higher—77% are using AI technology every day. The same goes for you.1
You're likely already using some form of AI to connect with your customers, suppliers and employees. Whether it's the autocorrect function on email or the digital assistant that responds to customer inquiries on your website—it's all AI and it's only becoming more prevalent.
What exactly is AI?
Simply put, AI is the capacity of a computer to perform operations akin to the learning and decision-making capabilities of humans.2 Since their inception in the 1950s, AI systems have continued to become 'smarter'. AI generally demonstrates some of the following behaviours:3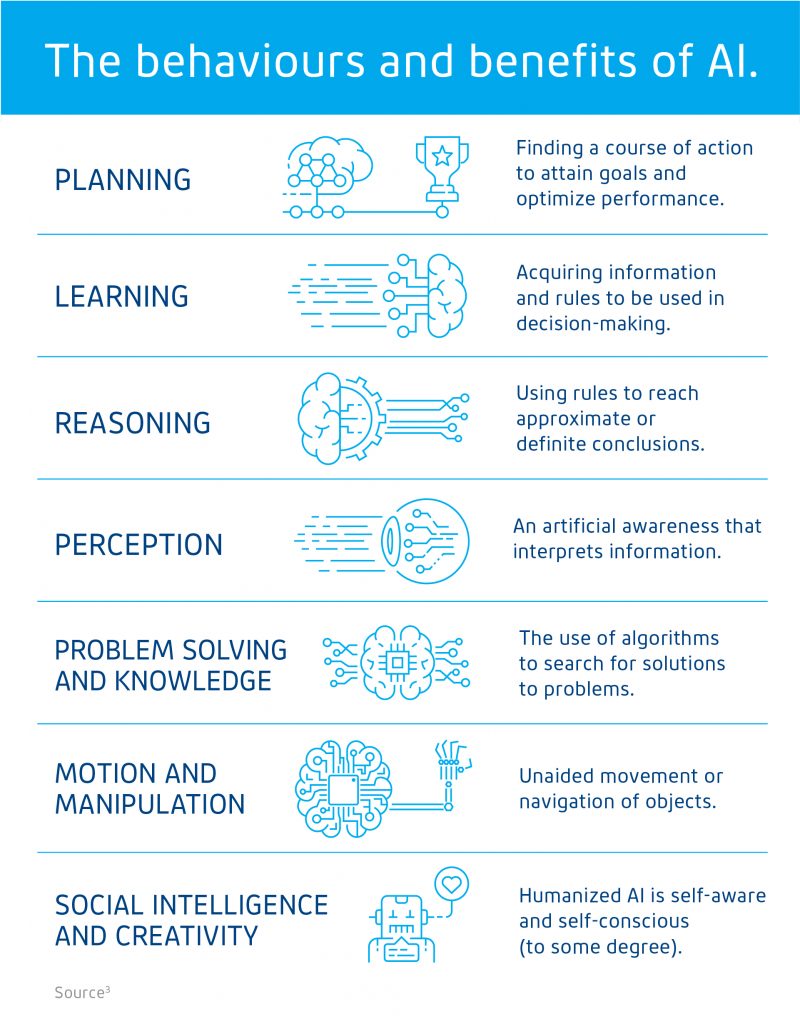 What can AI do for my business?
There are many ways in which AI can benefit small businesses. Here are 3 that we think pack a punch:
1. Personalized email marketing.
With one of the highest ROI rates at $38 for every $1 spent, email marketing is a solid investment.4
If you're not already using email as a marketing strategy, start now.
If you are, fine-tune it with AI.
Start by collecting email addresses (through a POS system or via your website checkout), then segment and target customers using an email marketing tool like MailChimp, Robly or Drip.5 Or, go one step further and trigger emails to customers based on their activity or key dates. For instance, if you know that your customer purchased a home décor product from your showroom last week, queue up an automated email 1 week later asking them how it looks in their space. It's a great personal touch that helps to engender them to your business.
2. Use chatbots to lighten the workload.
Remember those digital assistants we mentioned? They're capable of fielding everyday questions from customers and are a smart way to expand your team.
Many small businesses don't have a dedicated sales team or have limited bandwidth to respond to customer inquiries. Adding a chatbot to your website is like hiring an employee who works 24/7. Plus, 53% of customers prefer to use online chat before calling a company,6 so it's a no-brainer for businesses looking for a little extra support.
3. Reboot your HR.
Behind every thriving business is a great team. While chatbots may fill in the gaps, it's real people that bring personality to your business—but a bad hire can cost you big time.
Replacing a mid-level employee can cost 20% of their annual salary; meanwhile, high-level employee turnover can cost up to 213% of their salary.7
Luckily, AI is becoming more prevalent in human resources with chatbots like Talla, which help business owners screen candidates using a set of questions based on criteria for the role. This support gives you more time to perform other important business to-dos. Even if you have an HR manager, AI can help by relaying information about benefits, workplace policies and other relevant company information to new hires during their onboarding process.8
Be OK with AI.
Whether you want to automate your business a little or a lot, artificial intelligence is for everyone and can work within any budget—big or small. Think of it as another part of your toolkit, allowing you and your employees to work smarter, not harder.
Sources:
1, 4, 6, 8  (Walters, N.) (Date unknown). How Artificial Intelligence Can Help Small Businesses. [Online article] Retrieved from https://articles.bplans.com/how-artificial-intelligence-can-help-small-businesses/
 2 (Author unknown) (Date unknown). [Online dictionary]. Retrieved from https://www.dictionary.com/browse/artificial-intelligence
3 (Heath, N.) (2018, Feb 12). What is AI? Everything you need to know about Artificial Intelligence. [Online article]. Retrieved from https://www.zdnet.com/article/what-is-ai-everything-you-need-to-know-about-artificial-intelligence/
5 (Duczeminski, M.) (Date unknown). Outgrown Mailchimp? Here Are The Best Alternatives & Competitors To Try. [Online article]. Retrieved from https://www.insanegrowth.com/mailchimp-alternatives-competitors/
7 (Author unknown) (Date unknown). The true cost of employee turnover. [Online article]. Retrieved from https://www.psychometrics.com/true-cost-employee-turnover/