3 ways to turn "ugh, waiting" to "take your time, I'll wait!"
Time flies when you're performing an exhaust repair, doesn't it? Well, that's a matter of perception. A few hours of hard work for you may breeze by, but that same time can feel like an eternity to a customer being asked to sit in a dull waiting area with nothing to do. You've been there before: waiting for an appointment, staring at a blank wall, checking your watch only to find a couple minutes have passed. Not only is it excruciating, it can leave you with some pretty negative feelings towards the business that made you wait.
The good news is, waiting doesn't have to be a bad experience for your customers. Here are 3 ways you can give your waiting area a tune-up and keep customers happy while they wait.
1. Comfort is king
Give them ample seating and a comfy space to kick back—they'll appreciate it if the wait is a bit longer than expected. A welcoming space doesn't just make the wait more comfortable, but creates a great first impression. Good lighting, nice furniture, plants and art all contribute to customers having a higher opinion of a business. And details matter too: consider a self-serve coffee and tea station, and a TV (or two, depending on the size of your waiting area) to take their mind off the wait.
2. Mood music over motor sounds
No one wants to listen to the sound of the wall clock ticking (or cars being tinkered on). Fill your waiting room with music that complements—but doesn't compete with—your other waiting room entertainment. Keep your clientele in mind when you're picking your playlist, too. Since you're trying to make your waiting area a more relaxing place, it goes without saying that hype music probably isn't the right way to go. A little bit chill, a little bit cheerful, and your atmosphere will be right on point.
3. Keep them connected
A lot of businesses that involve long waits have little activity areas set up for kids with books, toys, crayons, and so on. And most parents will tell you this can make a world of difference for how their wait goes. But why limit the distractions to kids? Sure, you could go all out and stack your reception area with reading material and board games and a pinball table or two… but honestly, simply providing your customers with free guest Wi-Fi is just as effective (and much more affordable for you). When you give customers something to do, or the ability to get work done while they wait, it won't feel like such a time-consuming inconvenience for them to spend time waiting for you to give their vehicle the time and attention it deserves.
You provide the space, and we'll make it wait-worthy. Find out how at cogeco.ca/business.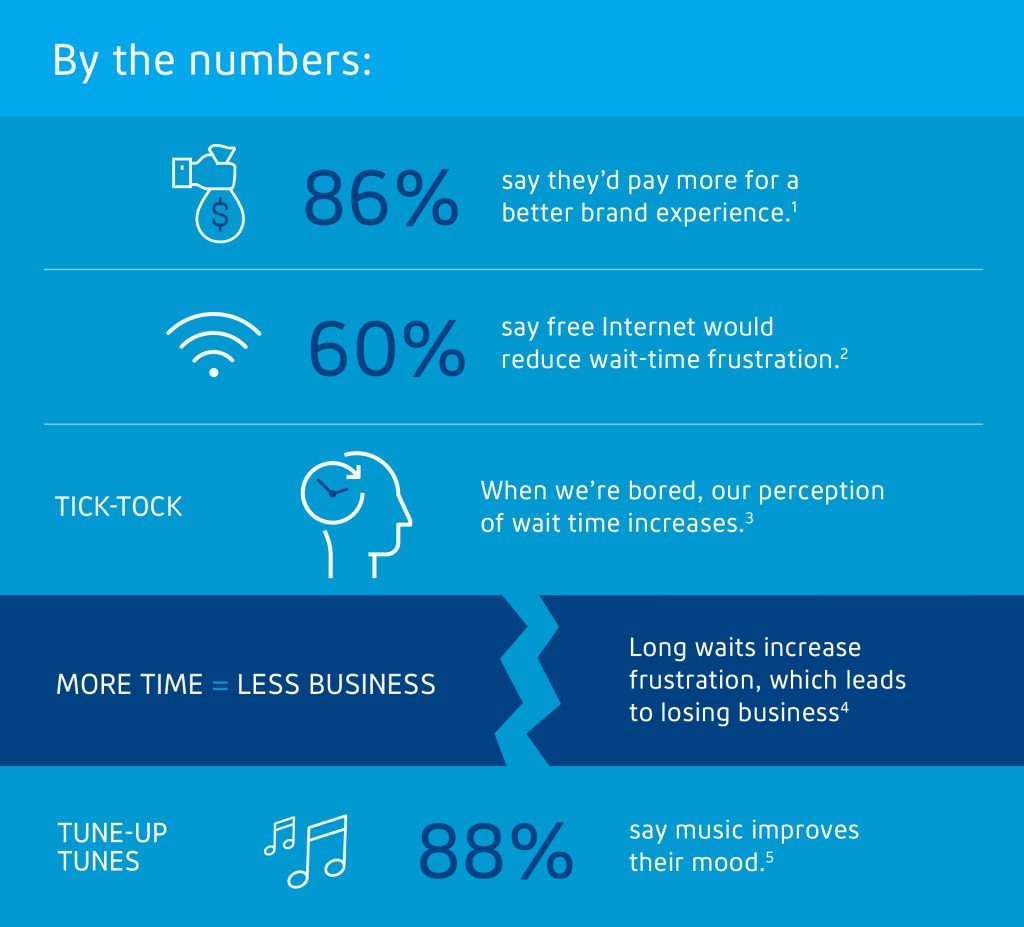 Sources:
1 Oracle. (2012). 2011 Customer Experience Impact Report: Getting to the Heart of the Consumer and Brand Relationship [Report].Retrieved from http://www.oracle.com/us/products/applications/cust-exp-impact-report-epss-1560493.pdf
2 Beckers Hospital Review. (2013, December 20). 9 Statistics on Wait Time and Patient Satisfaction [Online article]. Retrieved from https://www.beckershospitalreview.com/quality/9-statistics-on-wait-times-and-patient-satisfaction.html
3 Toister, J. (2013, September 24). Jedi mind tricks for reducing customer wait time [Blog post]. Retrieved from https://www.toistersolutions.com/blog/2013/9/24/jedi-mind-tricks-for-reducing-customer-wait-time
4 Toister, J. (2013, September 24). Jedi mind tricks for reducing customer wait time [Blog post]. Retrieved from https://www.toistersolutions.com/blog/2013/9/24/jedi-mind-tricks-for-reducing-customer-wait-time
5 Jones, M. (2009, August 1). Music in the waiting room [Online research findings summary]. Retrieved from  https://www.ncbi.nlm.nih.gov/pmc/articles/PMC2714788/