Looking good starts with feeling good.
So before your client's mani-pedi or blowout, treat them to a waiting room experience that adds value to their appointment.
Here's how:
1. Hit the right notes
There's nothing worse than the drone of hair dryers, or even worse—silence. Keep the atmosphere upbeat and fun with music from the moment your customers walk through the door. But choose your beats carefully—play music that your clientele listens to at home and you'll have them humming along, but play the wrong music genre and they'll be ho-humming over the wait times.
2. Be savvy with screen time
You can't go wrong with TV in your waiting area. Well, that's not entirely true. While most customers appreciate having something to watch (reality shows, lifestyle and entertainment programs, etc.) while they wait, the extra noise can be irritating. Turn the volume off and add the closed captioning so they can follow along while also enjoying your waiting room music.
3. Be social
Customers love to Instagram and Snapchat their experiences, especially the good ones. Help them share their salon experience with friends and family by offering free Internet access in the waiting room. On the sign with your Wi-Fi password, add your social handles and any hashtags you use to promote your business and encourage your customers to include them in their posts. After their appointment, offer to snap a pic of their new look for their social accounts.
You make them look great. We make them feel good while they wait. Let us entertain your waiting customers with affordable services from Cogeco. Visit cogeco.ca/business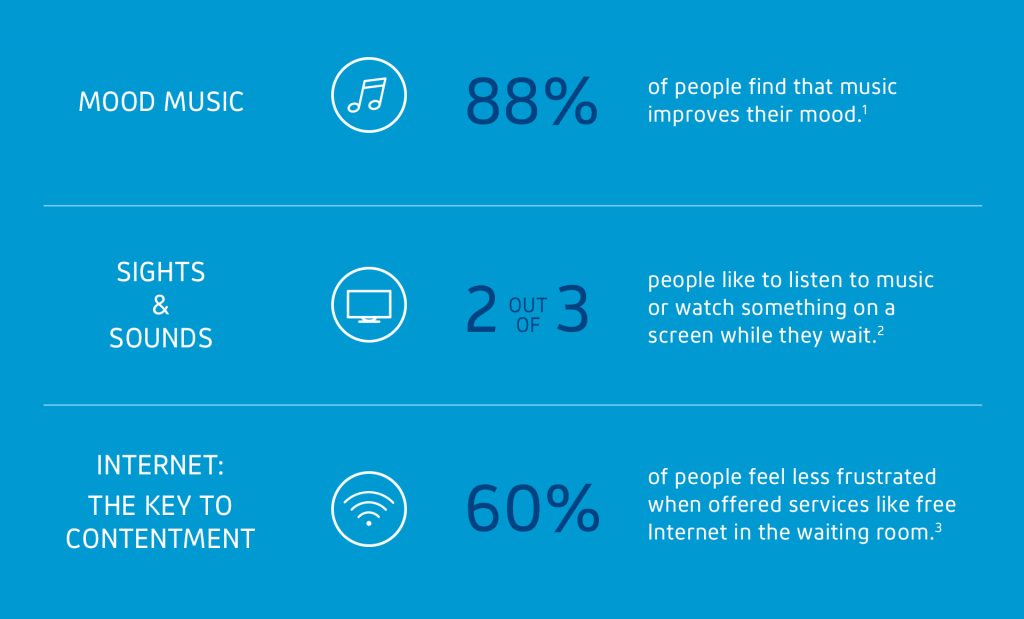 Sources:
1Jones, M. (2009, August 1). Music in the waiting room [Online research findings summary]. Retrieved from  https://www.ncbi.nlm.nih.gov/pmc/articles/PMC2714788/
2 Author unknown. (Date unknown). The benefits of a TV in a waiting room [Online article]. Retrieved from http://waitingroomstvs.com/benefits-of-a-tv-in-a-waiting-room/
3 Beckers Hospital Review. (2013, December 20). 9 Statistics on Wait Time and Patient Satisfaction [Online article]. Retrieved from https://www.beckershospitalreview.com/quality/9-statistics-on-wait-times-and-patient-satisfaction.html